Good Evening,
I was seriously contemplating the idea of a Pioneer Avic Z3 Navigation system with the internal hard drive & the whole 9 yards. However, that system retails for an easy 1800! This got me thinking into creating my own PC where I can install anyyyything for half the price.
After about a week of research I think I have narrowed it down to two motherboards.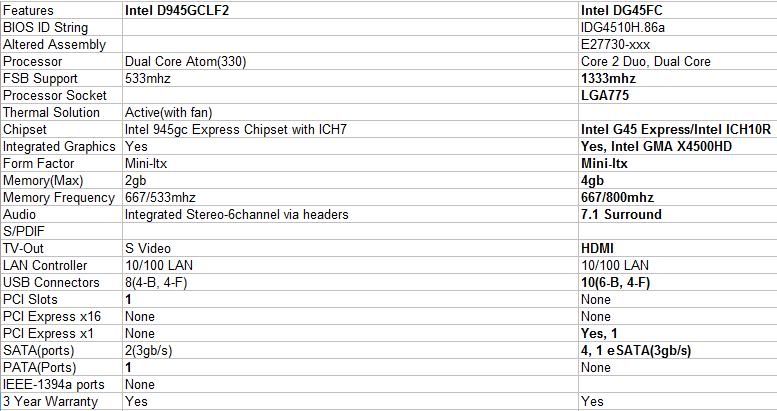 I would like a motherboard that has at least 1.5ghz+ for a processor, and is capable of at least 2gb memory. I have a motto of...do it right the first time, so I would rather overkill on the board a bit, but I know it won't be obsolete in 6 months. However, I don't know if the price difference of the two motherboards is worth the extra muscle.
The Intel D945GCLF2 comes in a kit with a voomPC case, or I can buy everything separate. Either way, the total comes to about $400 with the case, PSU, Mobo, 2gb memory, cd/dvd, and 320gb seagate drive.
If I figure it correctly, the Intel DG45FC is close to $600 with the same items.
I plan to run navigation on it, while certainly having a large collection of music/videos on the harddrive. I would also like to find an FM Tuner, possibly with the tv/ HDtv possibilites. It also has to be capable of playing cd/dvd's. If I can find the right hardware/software, I would like to use the CarPC as a vehicle tuner. I will probably tether my phone for internet usage, so the ability to stream files from home & online would be nice. I'm sure once I have the carPC intact, there will be all kinds of fun things that I can add to it.
One of the most important factors is the sound card. I plan on purchasing 2 sets of component speakers with a 4 way amp along with the carPC. I also have 2 12" subs w/ amp previously installed in the car. Therefore, my sound quality is certainly a huge factor! The 7.1 on the Intel DG45FC seems nice, but will that do the trick? I also have a Soundblaster Audigy 2zs Platinum(??) in my current PC that I would not mind putting into the carPC if necessary. However i am not sure if it would fit or not!
Basically, which of the two motherboards would be the best bet(or is there another one I have overlooked?).
Which FM/AM(tv/hdtv??) tuner do most people have the best luck with? I will connect this to my factory antennae if necessary.
Lastly, is it possible for the CarPC to act as a handheld tuner for the vehicle? I Haven't exactly narrowed that answer down.
I'm sorry for the long post, but I wanted to cover the bases. For now..