I need to make a custom wiring harness connector to be able to easily swap my stock hazard switch with the one that works with my dash insert. If you're curious about why, etc., check out my thread:
Help building a wiring harness adapter to use 98 hazard switch in 01 Accord
.
Anyway, here's what a rough mockup looks like:
The white connector coming out of the dash is the stock connector. I've poked the wires into it as a test and it's just hanging there. What I want to do is solder those wires (the ones poked into the stock connector) to this (top right item):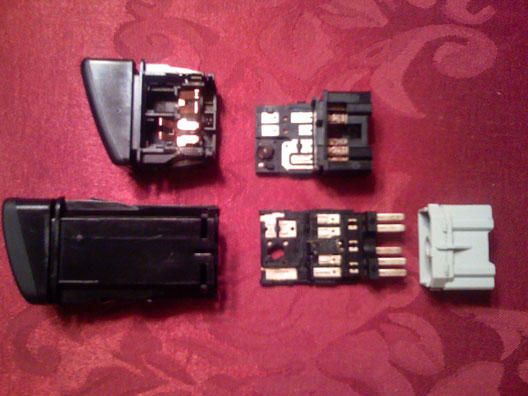 That's a spare hazard switch, taken apart. I'm going to just solder the wires onto that piece. That will give me a nice adapter harness so I can switch back and forth if needed (again, see original thread above if interested).
My Question:
Why kind of goop can I pour into the soldered piece to fill in the gaps and insulate and protect everything? Bonus question: any special kind of solder or soldering techniques I should use (I've soldered very few wires and things in my life).