First Hi guys, must say this is a very informative forum even so much that it ends up being slightly overwhelming & I think I'm on overload
I've read through build threads FAQs & carputer 101!
And what have I come to a decision, for me who time is limited I don't think I have the time to build a car pc & installation & the down time on my car as it was already in the shop having a big turbo conversion fitted, so let me get to the point I've been looking through the web and have found ready built double din car computers has anyone had any experience with these, I've found one in particular that I liked its the Giantec VPC 5500, price as I can estimate will be in the $500 range. Specs are below, would appreciate an unbiased informative reply so I can weigh up the pro's and con's.
This will be going into a MKI Audi TT, originally I was going for a double din alpine dvd setup with nav etc, however after stumbling across a car pc changed my mind. Anyway here are some photos of the double din conversion frame & the specs.
Thanks
Nick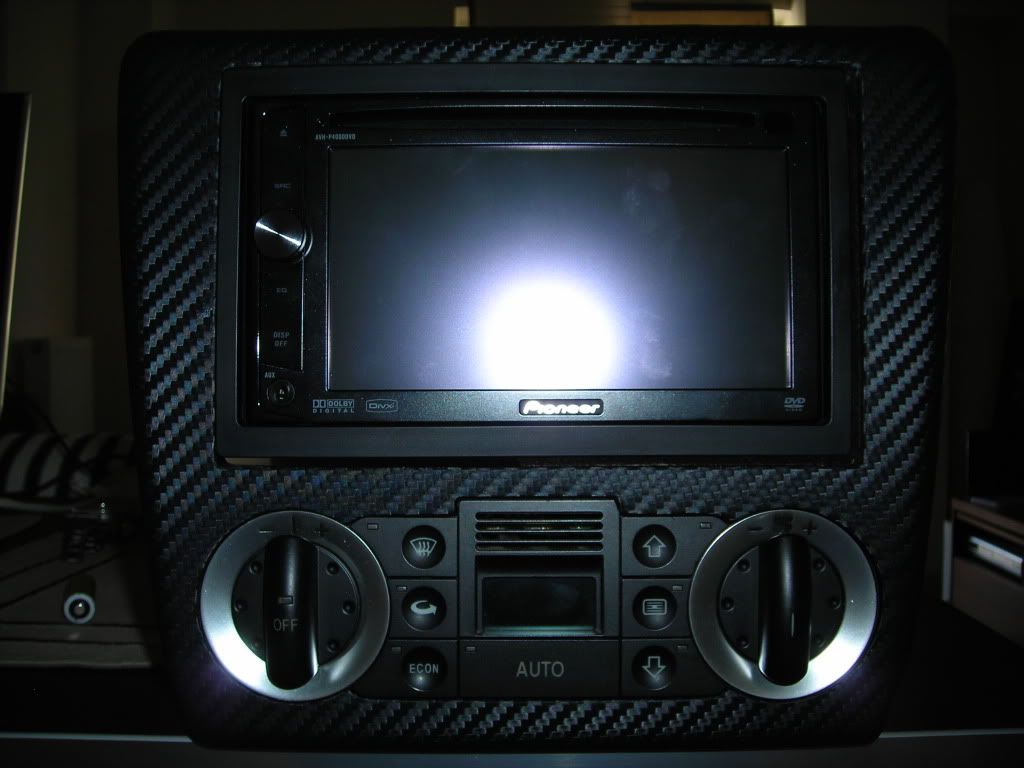 CPU : Intel Celeron M 1GHz
RAM : 512MB
Operating System : Windows XP
Software: Media Monsuta Multi-Media utility
Storage : 2.5" Internal 40 GB Wide Temperature HDD (-30°C ~ +85°C)
I/O Connection
Front Panel:
 .1 x DVD/CD-R ROM
 .1 x Mic. in
 .1 x USB Port
Front Access Buttons:
 ‧ 1 x Power On/Off Switch
 ‧ 3 x Selecting Keys
 ‧ 1 x Volume Control (Up & Down)
 ‧ 1 x Tuner Scanning Control (Up & Down)
 ‧ 1 x Reset/PC Power/Power Hold Button
 ‧ 1 x Screen Off Only Button
 ‧ 6 x Access Keys
Back Panel:
 .3 x USB Ports
 .1 x VGA Ports (For 2nd external Display)
 .1 x Composite Video Input (Reverse Parking Camera)
 .1 x AUX Input (Audio & Video)
 .1 x Standard Car Stereo Connection Leads set
LCD Panel:
 . 7inch Screen size
 . 16:9 Aspect
 . Touch Panel Operation
Audio:
 .50W x 4 Max. Power Output
 .4 ohms Speaker Impedance
 .Bass / Treble Control
 .Balance / Fader Control
 .2V rms (0dB), 600 ohms Output Level
Radio:
 ‧Auto Scan Radio Station
 .12FM / 6AM Station Presets
Connector Type : MultiLock Connecting System
External case : Sheet Metal (SECC)
Relative Humidity : 5% ~ 90%
Operating Temperature : -20°C ~ +70°C
Storage Temperature : -30°C ~ +85°C
Shock : 80G(Non-operating)
Vibration : 2.0G, 5~500Hz
Power Requirement : 12VDC @ 2A / 24VDC @ 1A
Power Consumption : 36W Average.
Certification: E9
Dimension : 7" x 3.875" x 6.5" / 175mm x 100mm x 177mm
Net Weight : 3.5Kg