Hi all-
As you can probably tell from the title, and the forum section this is posted in, I'm new to building carputers. However, I have plenty of experience with computers and cars individually.
About 7 months ago I purchased a used Asus Eee PC 701 4G from eBay for about $150 with the intention of getting to know the computer a bit and then eventually putting it into my car permanently.
However, I fell in love with the computer itself, as a tiny lightweight laptop that freed me from the oppressive 6 pounds of my MacBook Pro. So, I decided that I would not start the carputer build until I could replace the 701. Well, my birthday rolled around and I just ordered a EeePC 900 to replace the 701 for daily use, along with all my starter Car PC goodies from dealextreme.com:
7" USB Plug-n-Play Touch Screen Digitizer for Asus Eee PC 701 UMPC Laptops ~ $33.50
Super Mini Bluetooth 2.0 Adapter Dongle ~ $2.50
G.Mouse Mini USB SiRF Star-III 20-Channel GPS Receiver ~ $38.50
Car Charger Cigarette Adapter for Asus 7" Eee PC 700/701 UMPC Laptops ~ $4.50
My current goals are to get everything working without deconstructing the computer permanently, i.e. make sure all the hardware and software works the way I want it to before hardwiring anything.
Once that's done, I've got to figure out what I'm going to do about sound. I have the stock tape player right now that I'm using a tape adapter with to hook up my mp3 player. But it also has the CD changer input that I saw in another thread could actually be used to communicate with a PC, controlling it through a winamp plugin, which would be kind of cool. The only problem is that I don't know where I'd mount the factory deck, if I decide to keep it, because I'd want it to be accessible in case I don't want to run the CarPC all the time.
Then, I have to figure out exactly how I'm going to mount the computer. Right now, if the ribbon from the monitor to the mobo has enough freedom, then I'm thinking about mounting the motherboard in the dash behind and perpendicular to the screen so that the 2 USB ports and SD card slot on the right hand side of the EeePC can be accessible beneath the monitor.
In the end, Id like it to look something like this: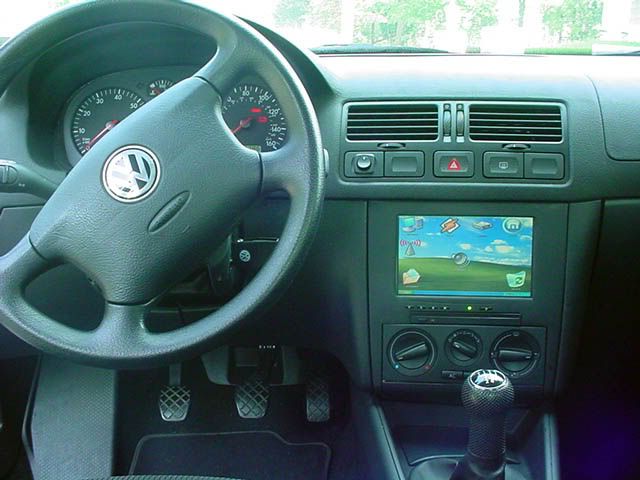 borrowed from ppgt94
except just have the two USB ports and SD card slot underneath the monitor where he has the buttons and cd player.
My immediate goals of functionality are:
Navigation
Media Center
Mobile Web Browsing (through tethering with my BB)
Hands free calling (through bluetooth with my BB)
VAG-COM engine diagnostics, when desired (through USB-OBDII cable)
Eventually I may implement some additional functionality:
Gaming (through emulation and usb controllers)
Back up camera (by relocating the EeePC's built-in webcam)
A hefty order I think for a first timer, but I definitely think its possible. Please let me know if you have any tips, suggestions or resources that I can check out.