Hi All,
Whilst at my local "Super Cheap Auto" today (Australia), I thought I'd check out their wiring. To be honest, it only served to confuse me more, and I'm hoping someone can shed some light.
I have an Opus 150 Watt that will be powering my Via Epia based system, and in the User Guide for the Opus it says to use:
#12 AWG for power/ground
#18 AWG for ignition
Reading the very informative:
FAQ: How to Wire an OPUS PSU
, it quotes:
1) You can use 10 gauge wire for the connections; I believe Opus recommends 12 awg. Most people use 10 to be safe, especially when running longer lengths to the trunk.
2) Add the fuse to the fuse holder. You should use a fuse that is 15 – 20A, you don't want to go higher then 20A
Now whilst I probably won't be wiring into the boot/trunk, I still want to be "safe", and make sure I use the right gauge wire. The problem is that we don't use the AWG in Australia - our wires are metric rated (in "mm" and/or "mm˛"). So I've reviewed a number of AWG to Metric Conversion Tables such as: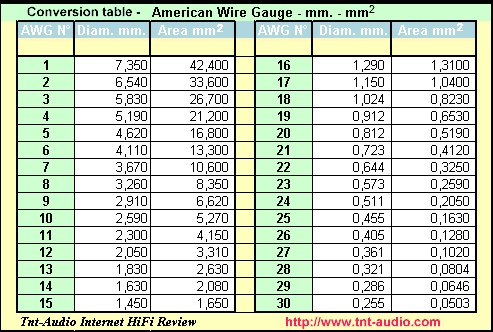 My confusion deepens upon looking at the wires today. The thickest one they had there was sized at 5mm. Reviewing the charts, this would seem to put it between AWG 4 and AWG 5. However, the wire cable also says 2.90mm˛. Again reviewing the charts, this places it between AWG 12 and AWG 13, which sounds borderline at best. To confuse matters even further this cable also says "25 amp".
I've searched these forums for the answers and found threads such as
this
, but to be honest, I'm more confused than enlightened.
So finally getting to my questions, I'm hoping for advice on:
1) Which standard/gauge/rating should I be looking at - "mm" or "mm˛" ?
2) Which size fuse should I use ? 15A, 20A, or 25A ?
Thanks in advance.
Cheers,
Long.1