Where are you guys placing power supplies in your Car PC setups?
Since Opus hasn't yet mastered the art of small enclosures for their power supplies, I am stuck with this behemoth to try and wedge in somewhere.
My first thought was to use some industrial double-stick tape to mount it to the top of the SRS control box under the radio, but I'm not terribly comfortable with that idea. There is space below the radio and the bracket that secures the radio to the dash does have some space where I could drill a hole to secure the power supply. The PSU would only be secured to the bracket on one side, but I could use some industrial double sided tape between the PSU and the bottom of the radio for added support.
The only concern I have with this is that the PSU would needed to be mounted upside-down. Probably not an issue but I am worried about vibration with the PSU's PCB mounted upside-down with large components hanging off of it.
Click thumbnail for bigger version: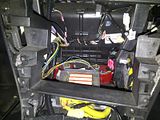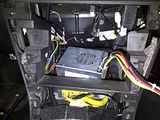 I sometimes think the engineers don't bother to consider where the devices will be mounted or how little space there is in cars now.
Any thoughts are appreciated.
Thanks.