Since everyone is curious (for the most part) as to how much power a motherboard draws. I made a current test jig for +5 +12 and +3.3 and tested the FV24 and the intel 810iEMO
These are my initial findings:
The FV 24 uses the 5 volt line to generate the CPU voltage. My MPBS1 power supply is better suited than I thought. The motherboard doesn't really use much of anything on -5 -12 or +12. It monitors +3.3 +5 and +12 in the BIOS. The fan was the only thing drawing 200 mA on this board. When I took off the fan, the current dropped to 0 on +12 volts.
The high and low currents are pretty basic. I just measured these as the motherboard was booting. I didn't run any operating system or anything. The no ram test probably doesn't have full CPU activity. This will make more sence after I test a few more CPUs and run a benchmark utility. But for the most part these are pretty accurate figures. The Vin and Iin are using my MPBS1 power supply and a gel-cell 12 volt battery. I need to also test the +5VSB voltage too.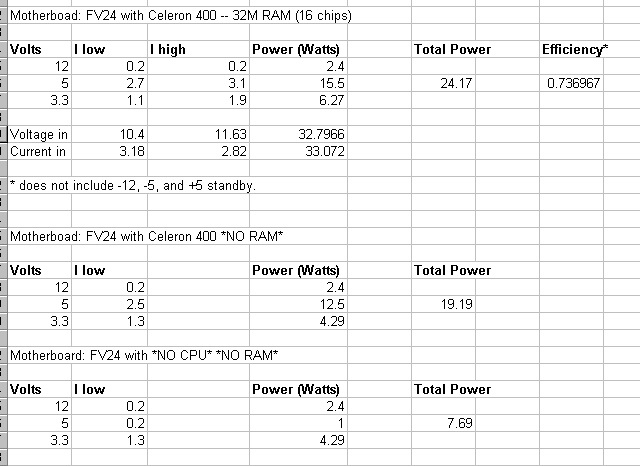 Hopes this answers some questions for people, it answered some of mine..
[ 01-07-2002: Message edited by: Jeff Mucha ]