This seem to be a weekly question. "How do I get sound from my sound card to my car speakers?"
It's quite simple. You do NOT need a sound card with RCA outputs.
This is what you'll need to get stereo sound from your PC to your speakers in your car. This is assuming your headunit has aux-in (may need seperate adapter, check with your manufacture) or you have a amplifier running the the speakers already: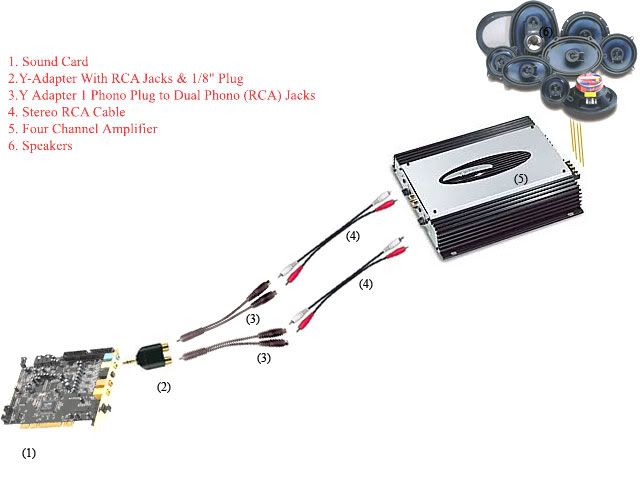 Here's a 5.1 Example: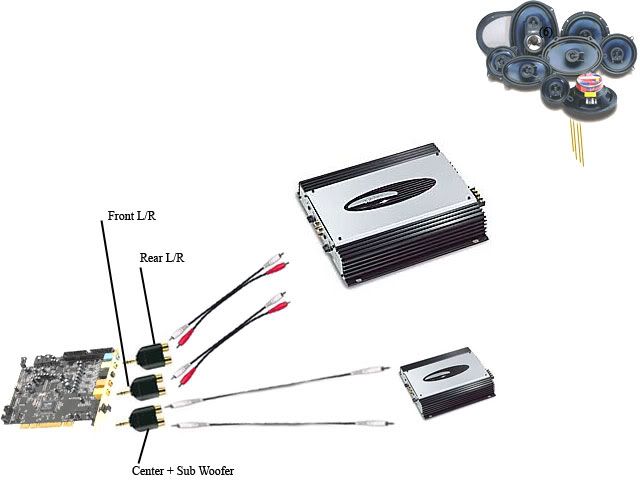 Using exsisting Headunit: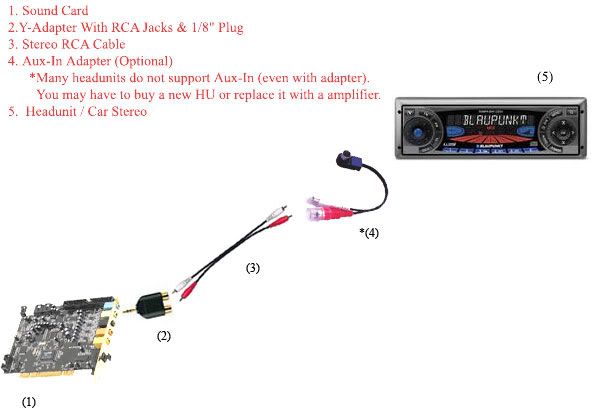 For those who have an FM Modulator, here's how its done: by
lgbr
1. Sell your FM modulator
2. Sell your head unit
3. Use that money for an amplifier
Very simple. Here's an FAQ
Q: Aren't amplifiers expensive?
A: Amplifiers range in price greatly. My first amplifier was used and cost $30. It put out more power than my headunit.
Q: But amplifiers are hard to set up!
A: If you have a computer set up, you're ready to go for an amplifier.
Q: What if sound quality isn't that big of a deal to me?
A: Save yourself some money and use an amp. Maybe you're not an audiophile like myself, but you'll thank yourself in the end for using an amplifier.
Q: I want to keep my head unit so I can use radio. How can I do this?
A: It will be a few months before good solid FM radio is available for the computer. If you still want a head unit, you can use the plugs mentioned above to go from your head unit to the line in port on your sound card. In fact, many external sound cards (Anything in Creative's Sound Blaster USB line) will automatically forward the line-in port to the line out, whether the computer is working or not.