Thanks to Prindle19, this sticky in the Hardware Development forum walks you through adding and XM Direct unit to your car PC.
http://www.mp3car.com/vbulletin/showthread.php?t=41001
Originally posted by Prindle19
OK, as my first tutorial, I would like to share with everyone the way i beleive to be the simplest, cheapest, and most desireable way to integrate XM radio into your car computer.
After weeks of work, I have come up with a simple process that I beleive to be the best, and here we go.
First of all, lets briefly discuss Hibernation. Since it is the method most of us use to shut down / start up our computers when we turn the ignition key, an XM instalation should be aware of this unique power managment situation. I would suggest STAYING AWAY from USB solutions, as they are notorious for having hibernation issues. That is why i suggest a simple serial interface anyone here should be able to build, and an XM direct unit.
Now, the above unit installs easily in any car, and is easy to tuck away and hide. But, how do we connect it to our carputer???
Well, you could go spend upwards of $50 to buy a pre made cable, but what if i told you you could make it yourself for only $15 in parts, and only needed to solder 5 lousey wires??
Lets borrow the advice from iHacked.com and I'll show you how to build your own serial interface cable.
Parts list:
* 8 pin mini-din plug. If you can get your hands on a older mac printer cable it has the correct style of plug.
* female db9 connector & hood
* Wires to connect it all up.
* 12 volt tap. (get it form somewhere)
Cable Pinout
8 pin mini-diin to db9
pin 1 = pin 3 Data Receive
pin 2 = pin 2 Data Transmit
pin 3 = pin 5 Ground
pin 6 = 12v
pin 7 = 12v
pin 8 = gnd
Now, the colors on the 8 pin mini diin cable may be different, and i assume they are, but using a voltage tester you can easily figure out which pin corresponds to which wire.
Here's how mine worked out.
1 Brown
2 Red
3 Orange
4 Yellow
5 Green
6 Blue
7 Purple
8 Black
Shroud Silver.
So of those, these are the ones we care about
DIN | Serial DB9
6 Blue | 12v+
7 Purple | 12v+
8 Black | 12v ground
3 Orange | Pin 5
1 Brown | Pin 3
2 Red | Pin 2
So, just solder that up, and i suggest using a molex connector for the power; that way you just solder the other half of the molex connection into your clean 12v power source near your car computer and can easily connect and disconnect the cable if you need to.
Here's an example of the finished product.
Ok, so now we have an XM direct unit, and a cable to connect to a serial port. OH NO! we have our gps plugged into our one EPIA onboard serial port!!! Lets run out and get a usb to serial converter.....NO, LETS NOT!
EPIA boards do have an extra comport, but they consist of simply a header on the motherboard as shown above. Now this is really simple, all you need to get is either from a mom and pop computer store in town, or somewhere online, a riser serial extension cable, shouldnt cost more than $4.00 MAX.
BUT!!!!! Save your self some time, and listen closely, there are two styles of riser cables...and if you have the wrong one, you will pull your hair out like i did for 5 days.
So here we go.
There are 2 types, V1 (which we want) and V2(which we wish never existed)
V1 styles correspond to the pins on our motherboard correctly, and look like this: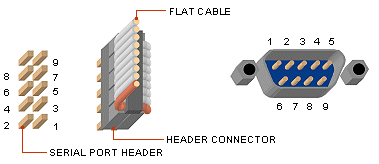 V2 styles DO NOT match our motherboard, and look like this
So how do we make sure we get a V1, and not a V2.
Well, you can bring a voltage tester to the store like a nerd....like i did, or you can save from being laughed at by the owner by going to the bin of serial header cables, and simply looking for ones that are wired streight at the head, or crossed. We want the crossed ones.

NOT CROSSED (THROW THIS BACK)

Crossed (KEEP IT AND GO HOME)
Now, connecting to the motherboard is really easy, all you do is align the red striped end of the cable towards the PIN1 on the motherboard and press the connector on.

Ok, so connect the cable you built to the new serial port, and then connect an RCA to stereo mini cable into your line in port on your carputer. Hardware woes are now over.
Now, as for software.
Everything stinks for using in the car, mainly for hibernation issues, except for Frodo's XM application, which is still an Alpha, but is absolutely outstanding for an Alpha.
Following my guide, and using Frodo's
application
, you will have rich sounding XM radio in just a few hours, and hopefully no headache. Best of all, theres nothing to connect/disconnect every time you hibernate, Frodo does it all through his software. Hopefully this software will be updated soon to allow it to be embeded in programs such as Centrafuse, and to allow you to quickly and easily store your favorites.
Enjoy!
Prindle19