Please add other tools as desired...
I'm not claiming to be an expert on the matter, but i do have over 10 years of experience in A/V troubleshooting/Installation/repairs/sales. The most stimulating has to be the troubleshooting. Its a puzzle with scientific reasoning behind the system. Its a beautiful thing when you can locate and isolate an issue, fix it yourself and then help your friends when it pops up again.
I have weened off of it in the past few years as my career has moved towards Geographic Information Systems and less A/V but there are still a handful of tools that i will never, ever be rid of...
First off: The multimeter...
You MUST go out to Radioshack and buy a multimeter. They come in many sizes, shapes and price ranges. I recommend digital, somewhere between $50 and $100. Its up to you how much you want to spend but I have had mine for 10 years - through rain and snow. It is the backbone of every good troubleshooter. It will allow you to test voltage at components (is there really 12v at the amplifier? is the remote turn on working?). It will test the impedence of speakers to see if they are blown. It can check for good grounds and shorts. It can even check current to see how much your system is drawing. Its the brains of the opperations and a must have. If you are coming at this forum with a troubleshooting question, I will assume you have already taken the first step and purchased a multimeter
Secondly: Crimpers...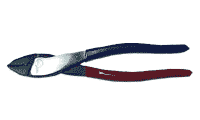 My god, I have had my crimpers at my side for all 10 years. You will use them to cut and strip wiring. The imaginative things I have done with them is beyond belief... I have bent steel, unscrewed bolts, cut carpet and even crimped once or twice. They are cheap and effective. They come in two styles and I recommend the kind pictured in the second picture but thats only after you have some experience with them.
Third: Speaker popper...
This is so simple and such a great tool. Grab an old used 9v battery and solder on a piece of speaker wire. One wire to the plus, one to the minus. Make the speaker wires about 12 inches long and make sure one of the two wires is significantly smaller than the other so they cant easily short. You will use this when you are trying to tap into factory wiring or decipher factory wire codes. Look at it this way... you have 16 wires in a factory loom. You know that 4 pair go to speakers... You have used your multimeter and found pairs that equal 4 ohms. You may have found 5 or 6 pair that equal around 4 ohms. So which pair goes to which speaker? Hook up one of the leads on the speaker popper to one wire and quickly tap the other wires together. You will hear a pop. That will tell you which speaker's leads you are holding. Run that around all your pairs and you now know which is which.
Just dont hold the wires together... you want to quickly scrape the lead like you have seen on movies where people hot wire cars.
Fourth: Snap-on rathceting screwdriver with tons of bits...
This is pretty self-explanatory but I have had mine (minus the bits) for over a decade. It has never let me down. Grab one and love it.
Fifth: Shorting plugs

Shorting plugs area pair of RCA ends that have had the inner and outer wires soldered together. These are used to test an amplifier. If you have some sort of issue with an amp (noise, popping, etc), remove the RCAs and plug in your shorting plugs. If its still doing it then you know its either the amp, or something from the amp out to the speakers. Amplifiers require a signal to turn on the output. Shorting plugs "turn on" the output while eliminating the actual signal (which may be the issue in the first place). They are a quick and easy way for you to determine if the problem is before, after or in the amp. Search for "shorting plugs" for more information
I will come up with a troubleshooting handy guide in a bit but please add on new tools that you think are a MUST have. I know guys and their tools, so please dont list everything out there. Im more interested in the top 5 tools you could not live without.