Software Review: NavigatoR2 From Cartft.com & Navigon
What it is/does: EU GPS Software With TMC
Reviewed by: Terran Brown aka CCSnet
Manufacturer : Navigon
Model: NavigatoR 2
Price: £183.11 GBP ( 13/04/07 )
Rating: 8 out of 10
Manufacturer website:
http://www.navigon.com/
Purchased at:
http://www.cartft.com/catalog/il/767
Pros: Great routing and voice direction
Cons: The interface still needs working on for full CarPC use
Tested with XP Bullet SR2, Navilock TMC GPS, Via 12000 MII with 512Mb Memory
First off – I'm impressed, but then I have been using Destinator 3 for so long that's easy. But still a few weeks on from starting to use this app I still feel that the Interface and the maps are very smooth and OEM like.
So – I've mentioned the maps and interface so I'll start there. Initially when you set this up you need to lock it to your hardware using a code the app generates. Now normally the end user would go to the web site and submit this code so you get the final 'activation' code. I tried briefly to see how this would work and found that not only was the web site talking about an older version but also PC and NavigatoR 2 did not appear in the activation list. Going from this I assume you must have to email them which may cause a delay.
Other than that problem the installation was fairly straight forward although again there was no clear way to install maps other than coping them over…. which where large and comprehensive.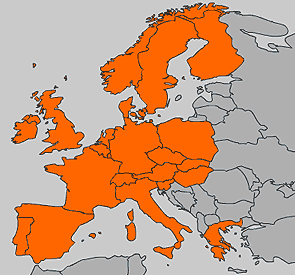 That aside when you start the app your presented with a warning and then a very simple menu… which in its self was a bit annoying as I would like to see it go straight to the map.
A couple of other map features I did like was the maps showing arrows where the one way systems where and even on round a bouts which way to go.
When routing I found the up coming manuvour warnings very clear indeed and the voice faultless and very professional…. Even to the point where you are told what the road identification was verbally eg. A456 etc.
The interface is skinable although take some playing as this is done through ini files for the most part so I see this as an area they could improve for the 'out of the box' users rather than their corporate ones who this is generally aimed at. One comment that CDRSkull made was that the OSK was cramped and I have to say I agree with him on this… also I found the app did not want to embed very well either having multiple windows. A simple wrapper may fix the problem here.
The map is very easy to read and very well tagged with street names and a comprehensive set of quality POIs showing in most cases not just down to the type ( eg Shop ) but the details as well ( eg ASDA ) allowing for a very specific routing if you required it.
The map controls can be activated by touching the top corner of the screen which I did find I missed some times as it was such a small area and ended up hitting the program menu which is activated by touching the map area. On these controls you can see the signal strength and TMC messages you may be getting.
Now – TMC – this was the main reason I was interested in the app but unfortunately I just could not get a signal through my receiver and when I did it was from the wrong service. Unfortunately I have not been able to get a clear answer as whether the UK TMC is supported even though Navigon signed a deal with RAC Trafficmaster a couple of years ago. Over here the service has to be paid for where as over on the main land EU they get it free…. So a big minus here for me.
Out of interest post code support is about the same in Destinator 3 so again another minus for me here as I was hoping it would be more comprehensive all though I did find the routing in general more accurate.
The SDK support ( according to CDRSkull ) could be better and did not give the flexibility of the Destinator SDK how ever they did bundle an interesting 'server' 'client' feature allowing you to integrate tracking in to your own program. How ever for our selves in the CarPC world I think GPSGate is the best bet for this especially as this is exactly their latest feature and can be added to any GPS app.
In all – I love it. It has a lot of areas of improvement and a number that it needs to improve on how ever when evaluating this we must remember this app is aimed at the corporate market rather than our selves therefore there is an expectation a lot of these areas would be addressed by the user writing custom software.
So – I'm just waiting to see what Navigator 7 from Directions is like ( mainly because CDR is and I want to stick with his front ends ) but assuming that does not live up to expectations I may just part with some cash for this app and learn VB.net…
For TMC – I'm more convinced than ever we need to find a online version from those free feeds out there and some way to feed it in to these apps but again although projects around this have started and stopped no one seems that interested so I guess I've got yet another project there too.
In all – if your in the mainland EU you will not be disappointed if your can with some small funnies. Over here… well that remains to be seen as applications seem to be created with mainland EU in main and not the UK ….. even so far by companies based here which is a comment I have made before today.
Terran