i posted this at ca.com earlier. that is me in the video.
Griffin Powermate Volume Knob
*photo from Griffin's site
The powermate came in. Turns out you can use it for multiple things. if you turn left & right it does one thing. you hold down and turn it can do another.
i have mine set to
Left = scroll up
Right = scroll down
Hold Down & Left = Decrease volume
Hold Down & Right = Increase volume
Click Down Tap = Mute
I made a short clip using the powermate while showing the new Centrafuse XLE, i didnt go over navi.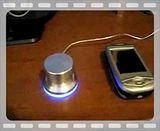 I really like it, i plan to get another one. put this in my car and the other for my desktop
the reason I like the weight is, it doesnt feel cheap, it feels reliable.
oh yeah this works on mac too.
Pros:
- Heavy(although i think it should be heavier)
- Easy to use
- Installs well
- Aesthetically pleasing
- doesn't feel cheap in hands
Cons:
- Blue Led is neat but to flashy for me
- USB cable could be longer
its worth the money.