Recently I've upgraded my system. My reliable Epia M10000 was replaced with a Biostar MB with an intel celereon M440 processor. Also to power this I needed a bigger PSU then the M1-ATX I had before. So the new system is powered with a M3-ATX power suply.
The reason I choose the M3-ATX was for it's small size. And small it is. When I recieved it I couldn't believe how small this thing really is. And is this supose to give me 125W were my first thoughts.
When installing it simply snaps on the ATX power connector. No wires are needed to make the connection between the power suply and the ATX connector. This is it's main advantage. There is no cable mess in your case when using this power suply and it can be fitted in very small cases.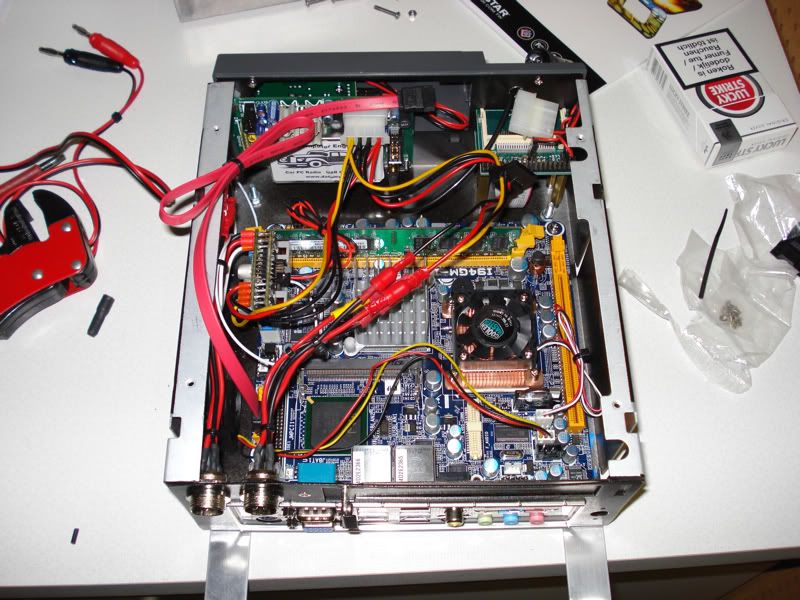 It has a build in start-up/ shutdown controller that can be set to a few different settings by the use of jumpers. The one most used is jumper setting one wich turns on power after 2 seconds after ignition, shuts down windows after 5 seconds after ignition is turned off and completely shuts down after another 60 seconds giving the system time to shut down.
Also it has a build in "anti thump control". Simply connect this wire to your amplifiers remote and there are no loud pops when starting/shutting down your system.
Once connected to my test bench and flipped the switch to simulate ignition I immediatly noticed the long time it needed to start up the system. Altough the manual says 2 seconds, it almost takes 10 seconds before the system fans start to turn and POST is started. I found this a really long time compared to the M1-ATX I had before wich was significantly faster. When setting up my system I didn't found any problems using this small PSU. I am using a 3,5" Western Digital Caviar HD and also powered my external CD rom and a TFT screen with it and it seems to have enough power to do this. After my system was setup properly it was time to put it in the car and this is where the problems began.
I drive an 1996 BMW 525tds. This is an older type of diesel engine and it needs to glow a couple of seconds before the engine can be started. Wen glowing, the glow plugs are using so much power that the cars electrical system drops below 12V during this time. And when the voltage is lower then 12V the M3-ATX doesn't power the system. It's also mentioned in the manual. Is it a safety feature? Is it a flaw? I don't know, but it's really anoying. Also after the engine is started and the voltage is rised to 13,8V the M3 doesn't power the system anymore. I have a kill switch installed that cuts the main power of the PC but also when turning this off and back on again the system isn't powered. The M3 seems to need the ignition puls after it recieves main power to power up unlike my M1-ATX wich also started after killing main power and putting it back on. For me this is a major flaw!
The only option left is to turn the cars engine off, turn on ACC but not the ignition so the glow plugs don't draw power yet, wait until the system is powered and then start glowing and starting the engine. This really isn't a good solution. Also when starting the engine when in POST it seems the M3 hasn't enough power for the 3,5" HD because when I do this I often get a disk boot failure. So I actually have to wait until windows is loading to start the engine. This seems like forever when waiting in your car to drive away.
The anti thump circuit also isn't as good as on the M1. There still are pops. They are not very loud but they are there. With the M1 there was nothing. Also after the system has shut down the amplifier turns back on again for the remaining 60 seconds the power suply waits until shutting down completely drawing a lot of power during this time.
So my conclusion is that this is not the best PSU I've seen. Compared to the very reliable and stable M1-ATX this really isn't a good PSU, period. Maybe in a petrol driven car problems aren't that big but still... I certainly wouldn't reccomend it if you drive a diesel powered car, even a modern one. If you don't really need the small size and power I would definatly recommend the M1-ATX over this one. I have no expierience with the M2-ATX but I guess that one also is a better choice then the M3-ATX.
Pro's:
-Small Size
-No cable mess
-125W
-Has build in startup/shutdown controller
-Has anti thump system
Cons:
-Really needs 12V at startup. (Not available with diesel engines)
-Doesn't really survives engine cranks all the time.
-Takes a long time to start up.
-Anti thump isn't very good
-PC can't be restarted by killing main power and putting it back on. It needs ignition pulse again.
-Turns on amp again after windows has shut down for about 60sec.
Note. These tests were done right after I replaced my battery with a new Bosch Sliver Plus 100Ah one so I'm sure the battery is good condition. The M1-ATX worked just fine, even with the old battery.