I was recently given the opportunity to complete a review of scantool.nets OBDlink CI by mp3 car.
After having tested The OBDlink CI on multiple makes and models I've found it's limited to vehicles newer than 2004. It does however work very well on all the U.S. Models as well as Honda's and Toyota's. This tool is also very simple to work with, after loading the software and choosing the correct com port I was up and running. It picked up multiple trouble codes and monitored each sensor on the vehicle just as accurately as my $2000 snap on scanner. After trying a couple more things to get the scanner to work on older vehicles and failing I contacted Vitaliy through the scantool.net forum because the new CI can have firmware upgrades made to it. I thought he would have some insight as to how I could set up the CI to work on vehicles like my 2001 Focus, or my fathers 2002 Cadillac DHS. Instead I was delightfully surprised at how personable and helpful he was (customer service is worth more than anything to me these days). Although there was no software or means to get the unit to work on older vehicles hen explained people that purchased the Cl were eligible to get a discount on the new OBDLINK which was coming out soon. We however worked out a deal where I would also get to review the new OBDLINK.
So here's the tool as it comes packaged. Literally everything you need to get started.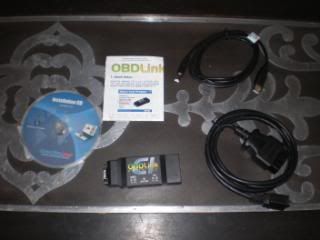 So the pluses are; Easy to load software, Easy to hook everything up, works great on vehicles newer than 2004. Easy to read sensor information, DTC's are not only shown but the description is given as well.
Negatives; This unit only works on vehicles newer than 2004.