Hardware Review: JL Audio CL-RLC volume controler with built in 7.5 volt preamp
What it is/does: allows remote volume control of stereo equipment
Reviewed by: Soundman98
Manufacturer : JL Audio
Model: CL-RLC
Specs: 7.5 volt preamp, linkable, remote volume knob
Price: MSRP $60, i paid $55 w/ free shipping on ebay-- seller was dimensionaudio
Rating: 9/10
Manufacturer website:
www.jlaudio.com
Purchased at:
www.ebay.com
Pros: great if you need a volume control and a preamp even better if your need both for a multichannel system
Cons: rj-11 phone plug for volume knob wire connector might be very touchy- one defective unit--later found unit is defective, not connectors.
Pictures: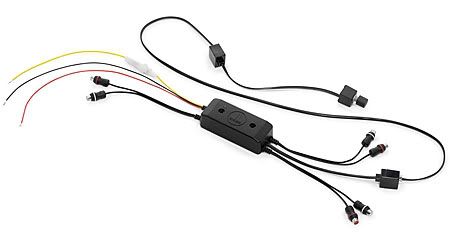 file photo courtesy of jlaudio.com
i purchased 4 of these to control my entire setup-- 3 are used to control my actively crossed-over speakers(meaning that the audio signal is divided for the proper speaker before it enters the amp), one for my tweeters, one for my mids, and one for the sub channel. the one for the sub loops into the 4th unit to serve as a independant subwoofer level control.
overall, i was inpressed by the construction of the units. they are built very sensibly, with fused power inputs, and a range of options for connecting them to your stereo.
the power and input rca connectors are on one side, with the other having a variable output pair of rcas- controlled by the volume knob, and a pair of fixed output, or pass-through rcas, which are not affected by the volume knob. they just pass the input signal on, without changing it.
i connected them with very little problems, using 2 phone jack splitters, and small phone extension cables, to allow one volume knob to control 3 units. the fourth unit was connected to its own volume knob, so subwoofer volume is controlled by the main units, but is also independantly variable.
after installation, i was finally able to turn my amp gains down(previously, all my gains were set to max-- about 0.2volts..) and fired up the carputer for some subjective listening.
as expected, going from a very poor, low level signal to a higher level input signal has resulted in much better dynamics across the board-- the subs hit much stronger and fuller, the mids, and tweets sound a lot more natural.
i have now had them installed in my car for about 2 weeks now, and have been very pleased with the result--while they are more expensive than what i would prefer to pay for something like this, there are very few solutions for multichannel volume controls, and preamps, but it has definatly increased the enjoyment i get from listening to music in my car-- i can actually turn it up now! and having a physical knob makes volume adjustments that much easier-- no more waiting for the computer to adjust the master volume.
but i have been having problems with one of the units cutting in and out-- at random, it will just stop working, and then all of a sudden start working again. at first, i had problems with all 3 of the units, and had poor connectivity over the phone connectors. after making my own phone cable jumpers, it seems to be doing better, except for the one unit.
EDIT:just a small update for those of you who might have been concerned about the issues that i said i was having with one of the units---i recently swapped it with the one that was my sub volume control(one single, dedicated knob, no other units connected to it), and it has since worked flawlessly. i have had to re-adjust the knob for the correct amount of bass though--it seems that it was expecting a different level of resistance from the knob, and linking it to the other units was enough for it to get confused as to what level it sould be outputting, so it would cut in and out as it figured out the correct resistance...
since the swap, it has worked flawlessly (i did't even think about it on the way into work today, which is amazing in itself)
edit2: it worked flawlessly until i made the post, it turns out it is still up to its old shenanagins-- ordered a replacement