I've recently had an Ampire DVBT400-3G fitted to my Audi A4 (B6) and I am very, very impressed!
For those who don't know this hardware it is a DVBT "Freeview" dual tuner digital TV receiver with built in "+" TV recording (TIVO), it records directly to a USB stick / USB HDD caddy that can be removed and can then be plugged straight into a PC or an NMT (e.g. PopcornHour A110).
It has two tuners: not in the traditional "record + watch" sense of digital TV, but instead it allows you to watch or record a channel while the other tuner scans for a stronger signal elsewhere, so it maintains a clear signal while driving.
The picture and audio quality is very good: crystal clear and smooth. Scrolling between stations takes slightly longer than on my home Freeview, but is still significantly faster than Sky and leagues ahead of Virgin Media.
The device integrates with the Audi OEM RNS-E satnav system, so all the basic controls are accessible via the Audi dials and buttons and the steering wheel controls, so volume can be controlled and TV channels can be scrolled through via the steering wheel dials.
Advanced controls such as teletext, recording* and switching to the alternative input devices (reversing camera, iPod or even just a separate DAB tuner/MP3 player) have to be down via the remote (IR eye is currently mounted in the back of the glovebox, but is on a long lead and can easily be moved to the back corner near the floor mat, etc).
* a neat feature is that when you select record, you can choose to record for 15, 30, 60, 120, 240mins and it will continue to record after the car is switched off, assuming you still have signal; underground carparks are not a great option for this!
You can also play avi and mpg video files, view jpgs and play MP3's from the USB drive.
File format has to be FAT32: I've tried using a 2Gb USB pendrive, 8Gb microSD in a SanDisk mini-converter and also a 32Gb Corsair Voyager. All with great success. I have also tried a 160Gb drive caddy using the win7 exFAT and that did NOT work, nor did formatting it to FAT32 and then reszing the disk in PQMagic to 160Gb: the drive spins up and is read without a problem, bu tthe volume information that I see is "patchy". I'll reformat into PROPER FAT32 in the win7 command prompt and see how that goes.
AMPIRE WEBSITE LINK
Pics:
View inside the glovebox (IR eye is the little "hole" to the left of the extra 12V sockets):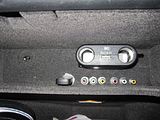 View of teh cabin at night and the TV close-up: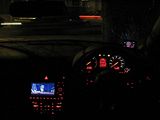 Only glitches I have had are:
Ampire glitches:
- Initial GUI menu is in German, even though all the subsequent ones are in the regional language (e.g. English).
- minor codec concerns (possibly to be updated in a software patch?): it supports most avi files, but not mkv files - I use my old iPod Classic and a £3 eBay iPod to AV adapter for videos that aren't in the right format (most of mine are in MKV + iPod format) - still need to test all iPod Classic and iPod Touch video formats though, so those may still work.
- The remote is used for a little more than is ideal: I would like to be able to start a recording or scroll between the TV, iPod input and the alternative input (e.g. DAB / reversing camera) via the Audi controls: videos and music can be played back via the opening menu - all accessed via the Audi controls.
Not really Ampire's fault:
- Digital Freeview radio is high quality and has all the key digital stations, but can drop out a LOT more than DAB does: I intend to source a DAB (Pure Highway) tuner and use the second AV line in for this.
- IR eye fell from it's little mounting point, so it no longer lined up with the unit - not the fault of the unit at all.
- I ran the battery flat in cold weather and had to recode the Audi DIS to control the unit - again NOT the fault of the unit at all, but worth bearing in mind if you're troubleshooting.
Other units I had considered: before the DVBT400 came out, I was going to get the DVBT200 (no extra AV lines in, no USB storage, no recording or media player) and then was going to link it to an in-car media player (my choice would have been a PopcornHour A110) - the only thing I have lost out on by doing this is less range of media files that can be played and I would have been able to send media directly to the car via WiFi with the popcorn hour, but that isn't as straight forward any more - a portable (laptop) DVD/Blueray drive would also have interfaced directly with that**.
The media formatting isn't that much of an issue if I can sort out the network access (then I can record media content and convert them straight to the NAS box in the car
Instead of this, I am considering a NAS box in the car with WiFi + USB interfaces, but need to get the caddy working flawlessly first! Alternatively, given that SD cards on adapters work, one of the WiFi SD cards would also work, provided the interface allows for media to be sent TO the card (most auto upload to a server / PC).
** Note to self - avi files on a DVD SHOULD work, but need to check if normal DVD video discs can be played using the Netbook's portable (USB) DVD drive.
Please let me know if I've missed any key features or reported anything inaccurately. As I've stated, I've only had the unit for about 3 weeks, yet to fully read the manual and I believe there are some software updates in the pipeline too.
Also if there are any other questions or requests for tests, then please let me know and I'll gladly do any simple / straightforward checks.