VFD Media LAB Black A2331 (also available in silver)
http://www.thermaltakeusa.com/2005/x...lack/black.htm
mspr:??
http://2cooltek.com:
$93.95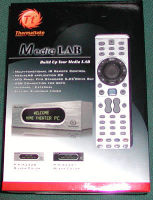 This is my review of the Thermaltake Media Lab Panel.
While this is made to fit in a 5.25 drive bay, it will fit many mounting locations in a vehicle as well. The basic stats from the thermaltake site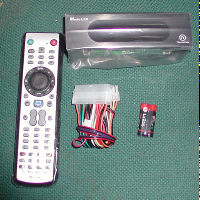 P/N:
A2331
Multimedia Kits:
IR Remote Control
2 AAA Type Batteries
Media LAB Application CD
USB Cable
INTERNAL USB EXT CABLE
M/B PWR SW CABLE
M/B PWR EXT CABLE
Material
Aluminum body & acrylic panel
Net Weight
450 g
Dimension
(H*W*D)
20 x 55 x 190 mm
Color
Black
Application
5.25 Drive Bay
Installation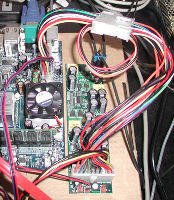 The connection diagram in the guide is helpful if you need it, but everything is well labeled so hooking up the little bundle of wires if fairly straight forward. Install the driver from the CD like you would with any other USB device and then run the setup from the CD.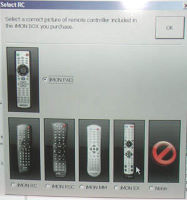 The Remote:
Well labeled, fairly decent key layout. The only issue I had with the remote was the location of the Full Screen button at the bottom of the remote. I would of thought a commonly used button should be placed higher on the remote. The mouse movement from the remote is very smooth and easy to use, a lot like the mouse "buttons" in laptop keyboards.
Display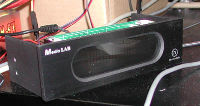 The display has many options for displaying various information, from a graphic EQ to news, weather and e-mail. They all function fairly well and information on them can be found other places on the internet. This would be a great addition to a dash display. Very well constructed and solid. The screen will display a set message even when the computer is off as long as the power supply is on. This message can be changed to whatever you want as long as it fits the screen size.
User Interface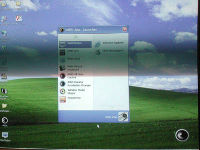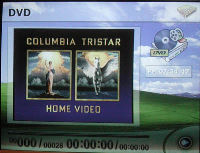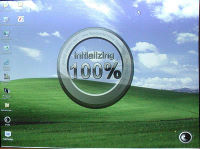 A very nice GUI for multimedia. Easy to use and large enough to view on a TV or small display. I am not sure about integrating a launch button for GPS but the app launch button brings up a start menu type menu.
I will try to add more later, as I use this more and experiment. As you can see this was all done from a bench top and not in a car environment.
Pros: Sturdy construction, easy of installation and customization. Very versatile remote with good functionality.
Cons: price (a tad expensive) many network features such as news and weather require a network connection, not always available in a car installation