Logisys FP800 Romote Multifunction Panel
(also available in silver)
http://logisyscomputer.com
mspr:??
http://2cooltek.com:
$38.99
Description:
Media PC, home theater PC and gaming PC has become a fashion in the fast changing PC industry. PC modding has been one of the favorite gamers¡¦ pastimes and being constantly providing new clues for the trend of our next dream PC. In response to the growing needs for remote access, convenient accessibility and security of gaming PCs which stand out and being differentiated from these so called main stream computers like Dell, HP and so on, Logisys has innovated this unique, first of its kind in the world - 5.25¡¨ Remote Multi Functional Panel. With this panel, you can boot your computer from the palm of your hand. It comes with two craftily engineered blue LED lit-up thermal gauges and one fan speed control switch, Which can display the temperature of your hard drive and CPU respectively . Two USB 2.0 and one firewire were also built in the panel for easy frontal access.
Specifications:
# Remote Control Buttons: Power On and Reset
# Panel Input Power: 5VSB DC, and 12VDC
# Remote Control Input Power: Alkaline Batteries
# Remote Range: 10 to 15ft
# Fan Control: 3 Pin
# Temperature Sensor: 2 Independent Sensors and Meters
# Antenna:Single Telescopic Antenna Included
# Dimension: 14.7 x 4.2 x 10cm, 5.75'x 1.63" x 5.94" (LxWxD)
Package
Comes fairly well packed in a nice retail package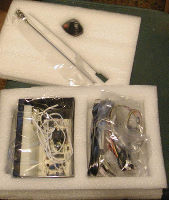 I had a problem with one of the temp gauges not working upon delivery, I was informed by Logisys that it was from the package getting dropped in shipping and that it has happened before. I was sent a replacement via UPS at no charge and UPS picked up the old one.
Since this is for a car install, I was concerned that it would be sensative to vibration. I did my own test on the replacement exsposing it to a variet of vibration and shock and did not have a problem. I will know more once it is installed in a vehicle.
Instalation
The instalation directions provided in the user manual comes in handy, This is powered by an ATX extention with 12V and 5V power going to the panel. The power wire can be easily modified to a standard Molex Plug.
The firewire plug presented a problem for me, It has a male plug instead of a standard firewire mother board plug. Since I don't have a firewire port other than the mother board, I didn't hook it up.
The temp sensors were a bit flimsy, I forget the name of the style but they are just a wire with a small blob of black on the end. Very common but not the best for reading CPU temp since they aren't flat. Good for measuring case temp though.
The USB plug has a nice design, so you can't plug it into the panel the wrong way.
Remote
The remote has a nice range (about the same as any car alarm remote) and runs on a 12V battery. The power/reset buttons are exactly like pressing the power/reset buttons on a pc Case, You could hardwire it into your vehicle for a power/reset switch and not need to run any wires.
I'll update this when I get it installed in my vehicle
Pros:Nice design, good price, needle temp gauges will look nice mounted in a dash.
Con:firewire plug and temp sensors (see above)