PROLOGUE
Ok, After a LOT of research I realized I was pretty much screwed when it came to finding out which screen is truly the best within a budget. So I went on ebay and decided to either buy some random brand. Or a 2005+ Lilliput. I did not want to buy a xenarc as It would put me over budget.

I Saw an auction for a Dynamix 805 Touchscreen. It had 2 bids and was at $96 dollars with 8 Dollars shipping and it was only one state away. So I bid on it, thinking it was going to go up in price. Every other 805 Dynamix screen was well over $230.

Now I bid on it not knowing all the drama that went down with Dynamix. Clone, Fake, All that crap, I didn't care. Dont care if its really a Xenarc, a Proview, a ITX, a Lilli, a anything. This was years ago and the ebay auctions seemed legit. Customer support was really there, and they're feedback was really good. I checked almost every feedback to see if in fact it was legit. All seemed right so It didnt bother me when I won the auction.
It was bid on a few more times but it ended up being well below $200 dollars. So I had a 8" 4:3 Touchscreen on the way.

Now my wife wanted a touchscreen too so I went ahead and bought a xenarc. If the dynamix was bad I would keep the xenarc(it's 16:9 so I dont want it) But everything went well.
All Pictures are Thumbnails. Click them for full size
Now for the review
Hardware Review:
Dynamix 805 8" 4:3 Touchscreen Monitor
What it is/does:
8" 4:3 Touchscreen, VGA, RCA(2), Auto On
Reviewed by:
Ruffy
Manufacturer:
Dynamix
Model:
805
Specs:
See
here
Price:
$280 USD Retail, Won Auction @ $150
Rating:
8/10
Manufacturer website:
www.dynamixcomputers.com/d805.html
Purchased at:
Ebay
Pros:
Bright Display, Auto powers on just fine. Good display, Clear at 1024x768 and above, Native 800x600 Resolution, Rubberized texture gives firm feel. Responsive touchscreen, Easy fast and accurate calibration. No driver issues what so ever. Feels as if it's built tough
Cons:
Poor documentation. Bulky, Buttons on the side.
Review:
First off. The auction went well. I didn't recieve any emails over the low price of the LCD. I ordered it on Friday, I paid for it on Saturday. Sunday they told me my package was shipped/dropped off. Monday I got my tracking info. Wednesday I recieved my Screen at 10am via Fed Ex.
The package came in a Large box. Inside was packing foam peanuts, Within the peanuts was another box with a large bubblewrap around it secured with tape. Overall this packaging was fantastic. It was double boxed and well secured. The bubblewrap was difficult to take off. THATS how well it was protected.
Here's a Picture of the Box that was in the bubble wrap. The actual product box.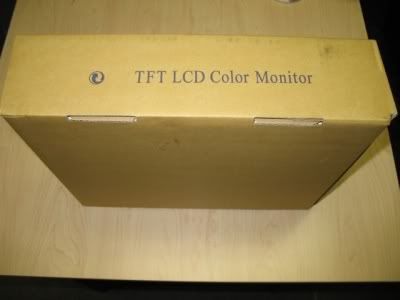 Opening the box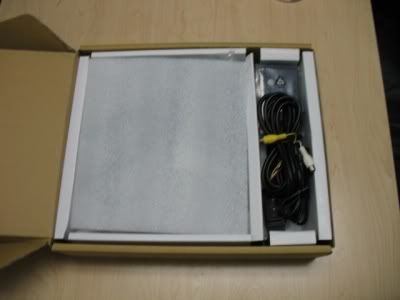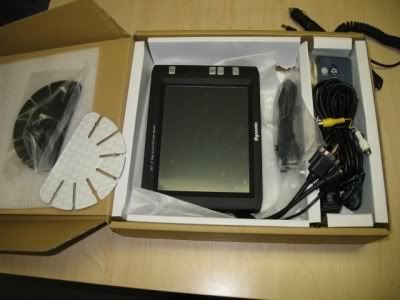 The Actual Screen. Still has it's plastic protective cover over the screen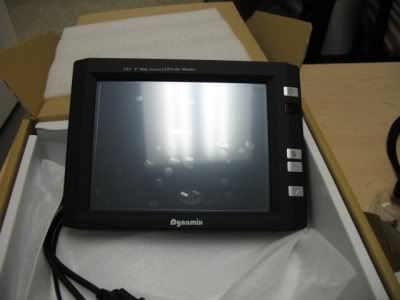 Now the screen is well built. It has a slight rubberized feel to it. It's alittle bulky and fairly heavy. All which are good. It came with everything I needed. Mounting stand. AC Power adapter, Car power adapter. The Cabling seems to have a small transformer inline with the power plug so I believe it's safe to use right away in the car. Remote. Stamped Driver cd, vga and usb cable.
First Thing I did was Install the driver software. The install was painless and fast. Plugged the screen into my laptop and was greated to an auto turnOn. The display was at 1024x768. Text was legible. Brightness was great. Contrast was great, Even in my terribly overlighted office.
For my test purposes I scaled the screen down to 800x600. It's native res. I was greated with better looking text at this res.
Now onto pictures
The screen has NO visible dead/stuck/faded pixels, I checked for this for about 30 minutes using dead pixel buddy and some other software.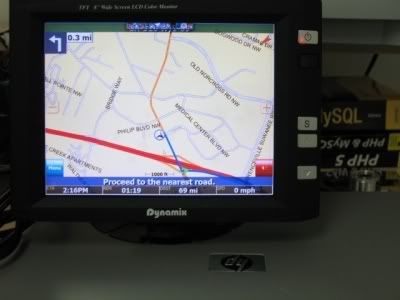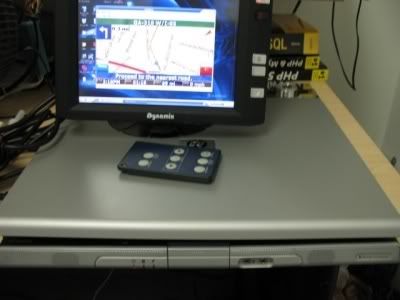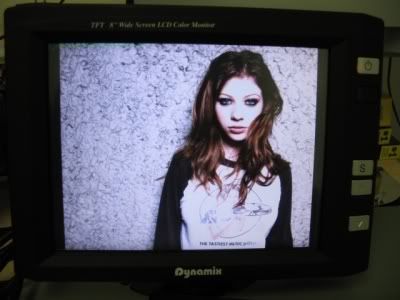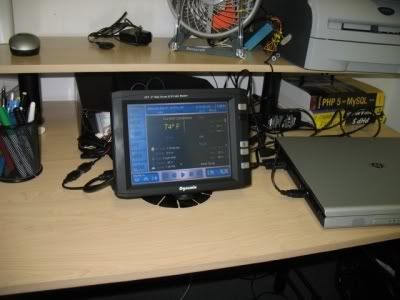 As you can See, The screen is fairly Bright. The touchscreen is responsive. Sure it's no 5 wire setup but it's still good. I tried the 4 point calibration, then the 9 point, finally the 24 point. Each one was a step up and all were usable. Overall I am very happy with the monitor. It more than likely will go in my dash. I have a dark interior and tinted windows. So I'm not worried about glare. Not a bad buy for under $200. I'm not sure I'd pay full price($280) For it but so far all is well.
I have yet to lose calibration on it. The Dimmer feature works well. The mirror feature on the remote does nothing on VGA but I might just be doing it wrong.
Stay tuned. Next post will be disassembling.where