UPDATE - 8th March 2008
Ok I have a small update, mainly with the Audio browsing and playing.
Bluetab version 1.1 Clicky....
First I have a new clock on the menu tab, thanks to wrx-carpc.co.uk.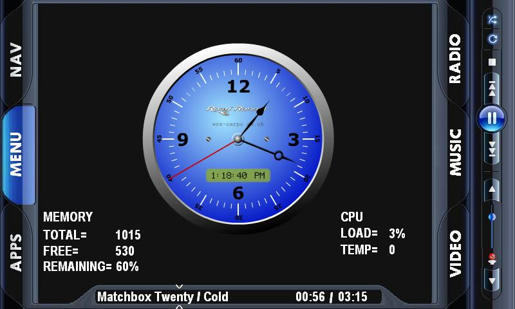 I have added a new cover browser similar to coverflow but not flash based. Great news for anyone not running a high spec pc as it looks and works very similar to coverflow but uses next to none resources. Coverflow is also in the new edition but you will need to redirect the covers button to get to it - see readme.txt
Thanks Sal for putting together a great plugin
- LINK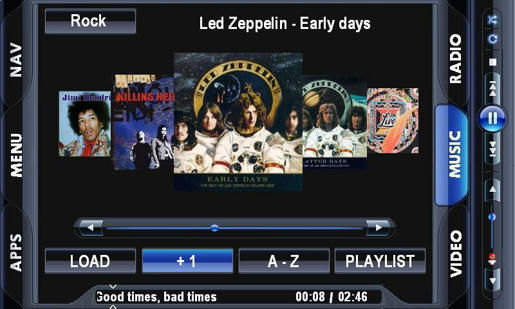 I have also added a playlist screen and changed the format of the browser screen a little.
Playlist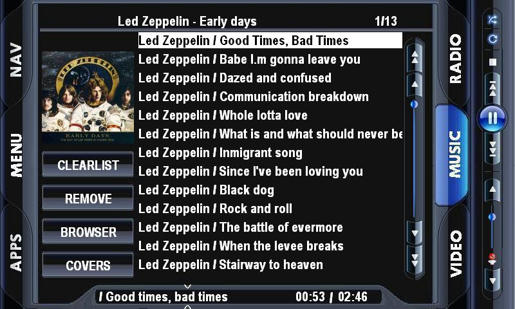 Browser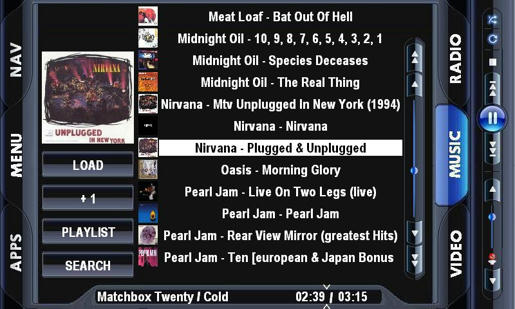 Enjoy the changes.
---------------------------------------------------------------------------------------------
Well I have been hiding in this forum for about 12 months now and I guess I should contribute something back.
I have been away from home for work for a few weeks and decided I may as well give this skinning thing a go. This is my first attempt at any kind of skinning and I am definitly not a programmer so this is all a little foreign to me but I am quite happy with the results.
I basically wanted a simple elegant skin with easy access to all audio butons all the time and a basic tab layout for the main features. My car pc is a fairly basic setup and consequently I haven't included a lot of the content that other skins have but if you like the design and want to modify it to your own needs, then I am more than happy for you to do so, just please report back here and let me know what your up to.
Link to Skin Files - Clicky
(sorry about the file size, Moahdib has a lot of backgrounds in his coverflow plugin.)
Anyhoo, I will let the screenshots speak for the rest of it.
Menu
Music Tab
Coverflow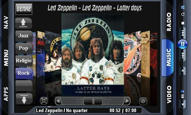 Browser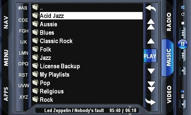 Visualisations
Video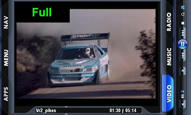 Navigation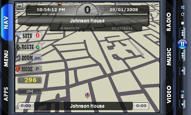 As you can see the audio controls are all situated on the right hand side and are always there. There are 6 main tabs for Nav, Menu, Apps, Radio, Music and Video. It's all fairly logical really. I will make a few notes that may not be so logical.
- The video tab launches directly to the player. If you then press the video tab again it will open the browser.
- The music tab opens up with cover art and 3 options for browser, cover art and mixer. If you click the cover art, it will bring the cover art to the full height of the window. This screen has two hidden buttons either side of the track info window at the bottom. To the left of this window turns the visualisations on and off. To the right of this window changes to the next visualisation.
- For coverflow setup and comments, refer to
Moahdibs Thread - Click
- For the cpu temp lable on the menu tab to work you will need to install SpeedFan and have it running.
Umm thats all I can think of for now, if you like the look of it, try it out and let me know how you get on. Any comments good or bad are appreciated. Oh and if the image quality looks a little poor it's because the work laptop only has MS Paint to play with. If I get motivated I may redo the images with something a little more appropriate.
Enjoy,
Anthony
Oh and thanks to all who have made roadrunner so easy to work with, Guino etc, plus Moahdid for the coverflow plugin and JohnWPB cos a used a couple of flash gadgets from his DigitalFX skin. Hope thats OK