I am just barely learning flash, and am a total newbie at it. I want to have a skin with a more dynamic flavor to it, and one component of that is a transition that makes it seem the different skins are connected to a theoretical cube, and changing between them "rotates" the cube to that screen. There will be other effects, but this is the first thing I want to try to get.
I was able to take screenshots in Adobe Premiere Elements 2.0 and visualize what I am after: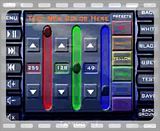 Is it possible? and how do I go about doing this?