New member here. I just got all my carputer stuff together, and am bench-testing it all. I purchased a copy of MS Mappoint 2006, and have a BU-353 GPS module. Mappoint works as it should. GPS works fine as well, albeit choppy? I'm new to GPS completely. Not to the concept, just to the quirks.
I'm running on Windows XP SP2, and Streetdeck installs apropriately. I'm running the latest version (1.1.0.0) as far as I know. I just upgraded from 1.0.9.8, but still get the same problem.
This is what I see when I get into the navigation plugin in SD: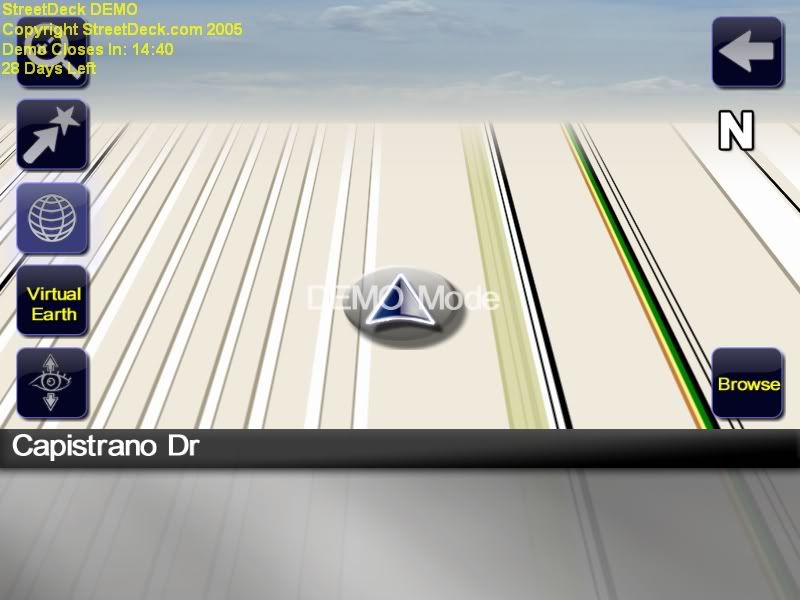 It looks like it got the map, but is horribly stretched/zoomed? DVD playback also looked like this kinna sorta. I figured mabye they were limitations of the demo software?
Also, when I just upgraded to 1.1.0.0, it said that I had 0 days left on my trial. and then it wouldnt run again. said trail expired. I DID have 28 days left. I tried uninstalling and re-installing, at no avail. Now i'm completely locked out.
I really like how SD looks. I have ALL the equipment hooked up, configured, and ready to go, but I can't get an actual feel for it myself. Those are key features, that before I drop 200 on, I would like to try in person. CF 1.2 Demo works beautifuly. Even with Mappoint plugin.
Any ideas? I really want to like SD and have no hesitations spending the money on it instead of CF.