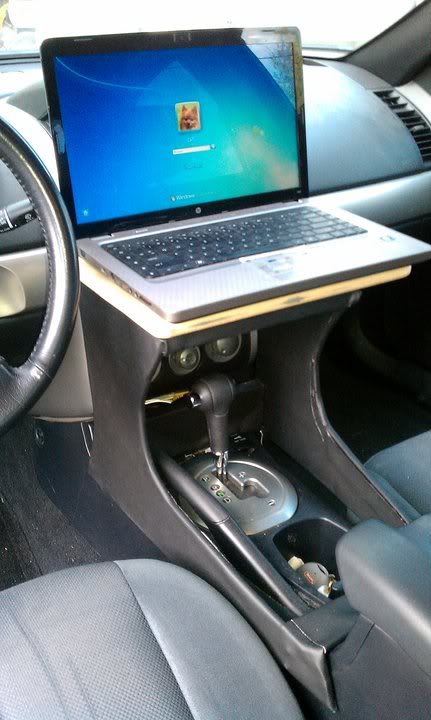 It was something quick that i fabricated in a day that could easily be removed and restored when we were on the highway. I know the safety/damage risks, please no flaming.
I did this bc I have a rooted EVO 4g, and I have free Wi-Fi tether, that will transmit 3G and sometimes 4G speeds in certain cities. I wanted to stream Netflix (Prison Break) on our road trip, and see how well the traveling EVO's Wifi would really be.
The wi-fi did okay, not as good as I thought it would. I had to refresh my the browzer in Netflix often because it would simply stop loading after awhile, totally random. 4G was spotty, so i found myself using a solid 3G speeds in cities with 4G, because the 3G had less breaks in coverage resulting in smoother playback. All in all it worked decent, but we had a REdbox DVD in the disk drive to switch back and forth when the Netflix was loading, which worked out quite well.
The trip definitely passed faster because of the EVO/Laptop/Netflix set-up.
All-in-all I think that trip with that mount is what got me into the mp3car scene, and is driving me to put a carputer in!
Bk