I have a Honda Ridgeline with nav computer and recently I learned that with a simple homemade plugamajig, I could get video onto my nav screen. I tested my mac latop on a TV using a small video adapter and Itunes with cover flow looks just fine. You wouldn't want to surf the web this way, but you could definately use it for multimedia just fine. So I tested the thing out via my $3 homemade plugamajig and it worked right off the bat. One problem, of course...you have to be in REVERSE to see the image. Not exactly a convenient feature.
I figured out a way around this, though. By tricking the nav computer into thinking it was in reverse, you can drive all over town with the video on the screen. I did this by jacking into the rear power outlet and sending the positive current into the reverse signal wire. Doing this directly would mean that I could never see my nav system or radio controls, though, so I built a little box with a switch on it (wired in a diode to I didn't send the 12v back UP the reverse signal...not sure what that would do...turn on my reverse lights while in drive maybe?) and tada -- I can now jump back and forth (while in drive) between the nav system/radio and the video input.
While I was at it, I decided I may as well throw in a backup camera too, so I added a second switch, two video inputs and one video output. Now I can switch back and forth between the camera and the computer.
The most amazing thing is, all this worked the VERY first time I tried it. And I have no real electronic background. The only side effect is, when you're in "reverse mode", the nav computer thinks you're driving around backwards and has you all over the map. So if you need to chart a course, you're not going to want to have the screen on. It only takes about a minute for the nav computer to get back on the right track, though, so not a big deal unless you're a heavy nav computer user.
Here's the diagram of how I wired everything: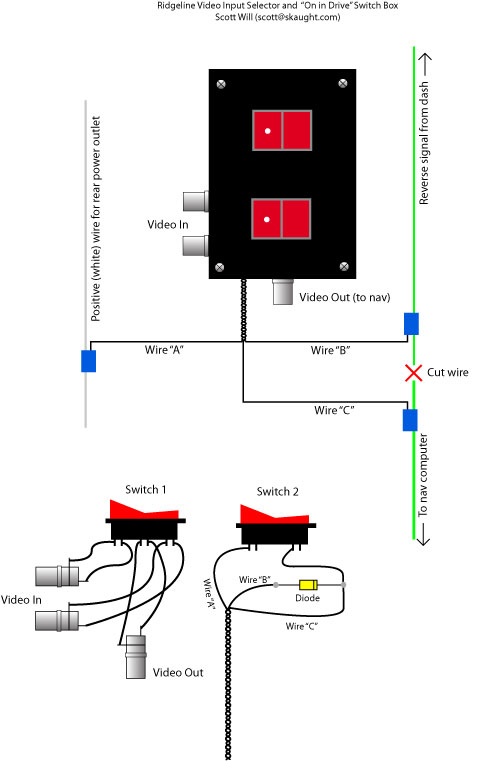 I installed the backup camera and that works fine. Kinda funny to drive around and see the cars behind you on the screen. Now all I need is a Mac Mini...the whole reason I started this project.
Scott