Hey all,
Jus thought i'd post a few pics of my front end. I've tried a few of the commercial packages out there, but personally found that most had far more functions than i needed and lacked the more specific functions that suited my own car modifications.
Anyhow, this is my own attempt at a frontend, its far from finished and I realise that software this specific is near useless to anyone apart from myself, so i'm posting these mainly because i always found it very informative looking at other peoples front ends when I was developing my own.
The functions and ideas behind it are pretty simple:
1. Media Player based on the Windows Media Player API
2. Audio and Video/DVD support with full access to WMP media library/playlists
3. Graphical Front end for custom A/C, Heating, Lights controller (see pics)
4. Graphical Front end for interior lighting, Neons and 'Audio Level' LED's
5. Graphical front end for custom power controller (ICE power isolation, lighting/amplifier power isolation etc)
Thats about it. Personally i dont need any other functions, short but sweet! Here's the pics:
Default loaded screen, gives access to heating/AC control, fog lights, hazard lights, heated screen etc:
Same screen with a few buttons pressed:
Basic media player screen, absolute minimum of buttons/clutter. Track info in the black window has just been added today, so is still looking rough. The same black window shows video when a video file is playing. Can also show visualisation, although this is turned off at the mo as almost all of the WMP visualisations look crap:
EQ screen, pretty self explanitory, wont be adding any frequency references as I never use them, dont know anyone who does infact, lol:
Basic 'List selection screen'. Figured I rarely if ever have video and audio files on the same playlist so i split them completely. We've got Auto Lists, custom compilations (my own playlists) and access to the media library: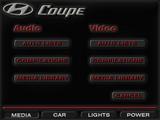 Auto lists, give very quick access to recently played tracks, most popular tracks, and a simple way to create random playlists. - Only finished this bit recently so may still change some button functions: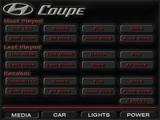 This is the basic media library screen , allows you to enter criteria for the artist, album or genre:
Graphical keyboard for entering search criteria, searching is not word for word, so you dont have to waste time typing 'Ludwig van Beethoven' when 'wig' will do (not that you ever would of course)
Possible results for an Artist, Album or Genre Search are shown on the screen below, you can select as many or as few of the results as you like. You're then taken back to the main library screen as shown above with all the corresponding tracks. Searches are also cumulative, so from the library screen you could go back to lets say album and only select the album/s that you want, same goes for genre and artist. Final step is to play or enqueue all (or a selection of) the tracks: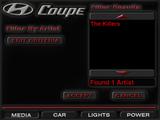 Last pic shows the internal 'ICE' lighting controller. Controls for Neons and LED's are shown as well as spectrum analysis results (operation of internal LED's is based on spectrum analysis of currently playing audio)
I guess thats about is. The power controller is the next and final element that needs coding. As mentionned at the top, it might seem pretty sparse on features, but it does everything I need as simply as possible.
Comments welcome.
Jonny
P.s. Considered posting this in the front end section, but it all seemed a bit too professional in there, lol. Mods feel free to move it if you like.