With heartfelt apologies to the people on this board who have been waiting for me to finally put something out, I am here to humbly announce my

V1 Virtual Display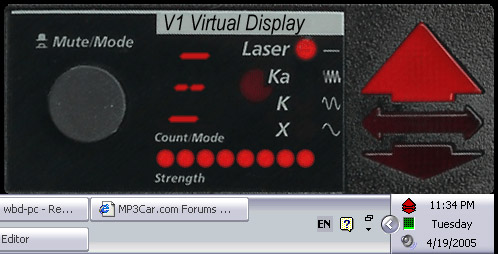 Alpha Release
features
:
Popup display on alert with configurable location and display time
Skinnable user interface allows the user to customize the display
Aspect ratio correction
Two way communication with the V1 by clicking on the notification icon, or on the display.
Touch screen friendly
Allows multiple applications to access the display data though a DLL
I am still working on adding features, some of which I am pretty excited about and I might also make a client that does not require .Net. It shouldn't take much to support a standard serial interface, but I am not particularly motivated to work on that at the moment.
There is only the default skin right now, which is kinda hard to see during the day, but I am hoping that some of the more artistic among you might be interested in making some skins. It is also kinda klunky, since it is kind of a tutorial skin.
Without the
hardware
all you can do is play with the settings and view skins, but please take a look and tell me what you think.