Can someone help with this?
Along with attempts at USB stick install and then finally realising I'll never boot from USB on my MB I'M GOING CRAZY!
Anyway back to the point.
Compact Flash card is a 2GB Sandisk Ultra II Rip off from eBay.
(BIOS recognises it as "Hyperstone Flash Disk")
Using this CF to IDE adapter.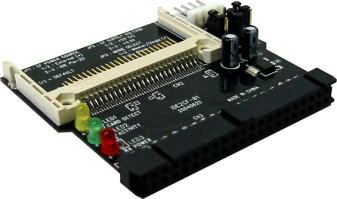 What I've done:
(Followed this
guide
)
1) Created my nlited XP Pro SP2 disc using post #28 .ini settings from
here
.
2) Connected DVD writer (S-M) and CF card (P-M) and Booted into DOS with this
disc
.
3) Ran fdisk, created primary FAT32 partition and set it to boot.
4) Formatted using format c: /s/x. Restarted and it boots DOS fine.
5) Reformat using format c: /x.
6) Connected CF to Card reader (windows shows it as "REMOVABLE DEVICE") and copy
Bootprep.exe
onto CF. Then plug back into IDE adapter and boot into DOS from CD. Ran bootprep /dc and accept twice. Done with no errors.
7) Connect HD to another PC using an IDE to USB adapter and backup XP using Windows Backup.
8) Plug in CF to card reader and restore XP install using Windows Backup.
9) Plug back into CF-IDE adapter and XP boots past 1st Boot screen but then freezes on the 2nd (logon screen?)
(Can't find a pic anywhere and some1's borrowing my cam so I made it up)
I 1st tried using my current XP install which was fully setup with CF and minlogon+EWF but it did'nt work. So this time I used a clean install of XP.
Does anyone know what I could have done wrong?