Just posted this in the FreeDrive forum and thought I'd post it here too. Here's the result of a weekend of playing around and learning the new functions and skin commands: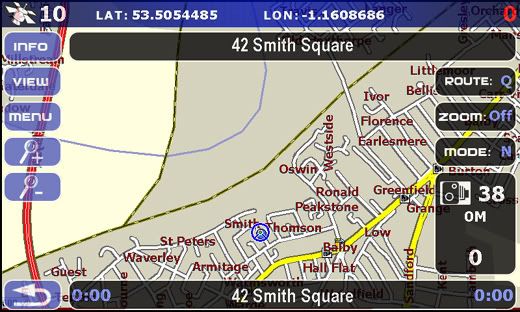 This is an actual screenshot of FreeDrive 1.0 running on my desktop.
As you can see, I've deleted the default scrollbar (sorry CDR/Gobby ) and replaced it with scroll buttons on the left hand side for reasons of aesthetics, predominantly, but also because I wanted to move the buttons anyway as no one makes skins with scroll bars on the left for us right-hand drive car users who are anal about this kind of thing.....
This skin is also designed to match a RoadRunner skin I'm working on and the button on the bottom left is to return the external GPS skin back to the main menu.
On a further note, some of you might know that there's a 'pixelmask' line in the skin.ini file for version 1.0. Depending on how you use photoshop it can turn out a bit choppy (***** knows how CDR managed to get the default skin to be transparent, but I couldn't do it!!).
The way I did it was to fill the transparent area with the same colour as the map and insert the hex value for that colour into the pixelmask line. The default pixelmask is black (000000) but if you use anti-aliasing, you might find that where the edges of the button blend away you get little patches not masked off properly. With this way, if it still shows through, you can't tell