There were a few different requests for a second map screen that had reduced labels and/or buttons on it, as an alternative to just the fullscrren where you did not get any labels.
This update has a second screen [mainaux] that supports all the buttons and labels of the [main] screen.
I have added a new command "changescreen" that will toggle between the [main] and [mainaux] screens.
I have also made it so that you can set a combination of time and speed to change to the [mainaux] screen automatically. The way the timer works is you set a speed that you must be doing for a time before the screen will change. EG so if you want to change to the [mainaux] screen when you get to 80 (km or M) but only after you have been at 80 for 2 Minutes then you set the timer flag to 120 (it is in seconds) and the speed flag to 80.
The screen will change back to [main] when the speed drops below your speed flag regardless of time.
The hard coded default settings for the speed flag and the time flag are 0, and no screen change will happen at all. This also allows for backwards compatibility with existing skin.ini and setting.ini structure.
One thing to note is if you change screen manually to the [mainaux] screen the time and speed event has no effect so it will stay on the [mainaux] screen until you change it back. After you change back to [main] screen the timer and speed event will kick back in.
I think this will give the best combination for skinners to utilise the 2nd screen
The attached, FreeDrive.zip contains the updated Freedrive.exe.
And the link to skin.zip (too large to attach) contains a modified CdR default skin called Default2 for testing.
Have a look at the skin.ini to see where to put [mainaux] commands and labels. With the Default2 skin I have used the old "fullscreen" icon to switch screens; I was too lazy to add a new one.
The speedflag and the timeflag have to be added after the splash= line of settings.ini if you want to use the timer and speed functions. If you comment them out or don't have them all you get is the manual "chnagescreen" command without any timer/speed events.
note speed is in your speed units and time is approximately seconds
#splash (0=hidden 1=show)
splash=1
speedflag=80
timeflag=120
Have a play and let me know what you think, the Freedrive.exe has the fixed pixelmask as well.
This is the [main] screen as per normal
The [mainaux] screen with minimal info but can be anything as you have the fullest of commands and labels as you do with "main"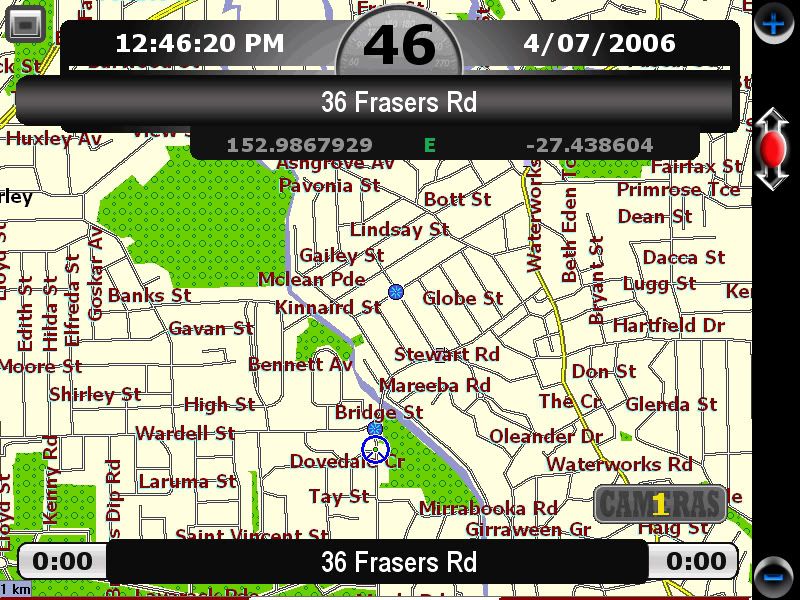 links to files
http://www.freedrive.co.uk/forums/showthread.php?t=378