What is it?
The Xenarc 1020TSV is a 10-Inch 16:9 Widescreen VGA monitor with 5-wire resistive touch panel.
The Verdict
:
The Xenarc 1020TSV is a work of art when compared to rival car PC monitors. Its aluminum bezel and new features stand alone in the market. However I just don't feel the 1020TSV was meant to be customized to the point of installing permanently in a vehicle.
See this product on the mp3Car Store
HERE
.
What's in the box?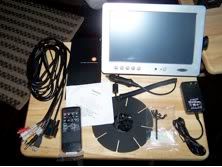 The 1020TSV comes with an instruction manual, VESA mount, desktop stand, an attachable stylus pointer, and a single-loom wire which includes connectors for USB, VGA input, 2 composite inputs, and an audio cable which connects to the built-in speaker. Also included are a home power supply, car cigarette lighter power supply, full function remote, and the touchscreen driver CD.
Description:
The 1020TSV is Xenarc's latest entry in the 10-inch touch screen market. The company has an outstanding reputation for building high-quality displays, and the 1020TSV is no exception. Upon opening the packaging I was immediately in awe of this monitor. It has a huge screen, an absolutely stunning brushed, anodized aluminum front bezel, and fascinating display quality. All this backed by a company who's been building monitors for our hobby reliably since the very beginning. The rear of the 1020TSV is constructed from ABS plastic, and features the same cable locking design of the smaller 700TSV. Both power and input cable are forcibly held into place, up and out of the way for fabricators.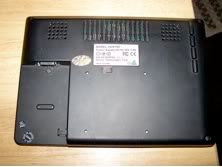 The 1020TSV has all the standard car PC monitor connections. There is a VGA connector, 2 audio/video composite connectors, and an audio connector which allows installers to run pc audio directly to the built-in speaker in the Xenarc. The speaker is around 3 inches, so do not expect full-range audio, however it would be nice to be able to route GPS guidance prompts separate from your music. Like the 700TSV, the 1020TSV does not have a DVI connection, something that should be common for all new monitors in today's world. The 1020TSV does have auto-switch sensors built into the composite input 1.
The 1020TSV has the same Advanced Image Scaling and Sharpness (AISS) feature has the 7-inch 700TSV. This, coupled with the native-resolution of 1024x600 means with the 1020TSV you get a big, bold, beautiful display. With competing monitors it's often the case that you can see individual pixel differences in an image. AISS fixes this problem and processes both static and moving images with extreme clarity.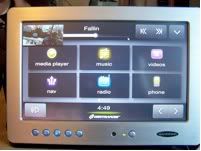 The size of the screen becomes even handier when coupled with the new Picture-in-Picture mode. This mode allows for an auxiliary input to be displayed while VGA is still displayed. Either composite input can be displayed in small-window mode or split-screen with a press of the button on the remote, and each screen is swappable. This could come in handy with say a backup sensor or rear seat camera.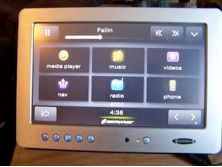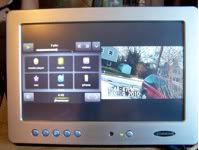 The 1020TSV has a new ambient light sensor on its front bezel. This allows the monitor to automatically dim based on the amount of available light. The automatic dim works well, but like the 700TSV, the 1020 doesn't dim nearly enough to make it work well at night without manual adjustments. The buttons on the front bezel are backlit blue and take quite the amount of force to use when compared to other monitors of its kind.
When looked at as a whole, the 1020 sure seems like a lead competitor in the big-boy screen department. But upon closer analysis, you may come to realize this monitor really wasn't made to be mated to a car PC. Why? Well for starters, it's heavy. At 3.3lbs, its going to take more than just bondo to get this fabricated into a vehicle. And that beautiful brushed aluminum bezel is not made to be cut, which means you must have an awful lot of space in your dash to make this your display. My Dodge Caravan is a rather large vehicle, but there's simply no way the 1020TSV is going to fit the dash in its current form.
Here is a photo comparing the actual bezel size difference between the 1020TSV and the 7"inch 700TSV.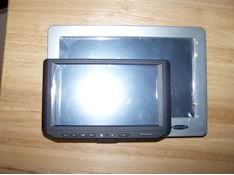 Even if you have the space, you have to factor in that this monitor is not transflective. The instructions indicate there is an anti-glare film applied to its 5-wire resistive touch screen, but in my testing I noticed no improvement over Xenarc 10-inch screens from years ago. The simple fact of the matter is more screen size means more room for glare, and while driving around with the 1020TSV as my monitor for a partly cloudy day it was a chore to navigate my front end.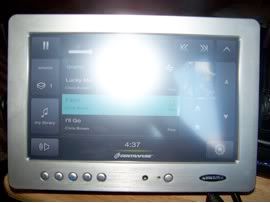 All these things as a whole make me believe the Xenarc 1020TSV was not made to be used in a vehicle at all. It seems at its best when it's a secondary display, sitting on a desk and able to show its stunning visuals without having to worry about glare.
The Positive:
• Top-notch display quality delivered from AISS
• Installation-friendly wiring design
• Composite Input auto-switch
• Picture in Picture with easy controls
• 500:1 Contrast Ratio
• Native resolution of 1024x600
• Auto-power on when VGA signal is detected
• Solid build, outstanding quality reputation
• Built-in ambient light sensor
The Negative:
• No DVI input
• Only 1 composite connection can auto-switch
• Below average sunlight-readability
• Only 300nits brightness
• Aluminum bezel must be accounted for in fabrication
The Verdict:
The Xenarc 1020TSV is a work of art when compared to rival car PC monitors. Its aluminum bezel and new features stand alone in the market. However I just don't feel the 1020TSV was meant to be customized to the point of installing permanently in a vehicle.
Specifications:
Aspect Ratio: 16:9
Screen Size: 10.2" Diagonal
Colors: 18-bit (262, 144 Colors)
Native Resolution: 1024x600px
VGA Modes: 640x480 to 1600x1200
Viewing Angle 160° Horizontal, 140° Vertical
Contrast: 500:1
Inputs: VGA, 2 x Composite Video Optional, 1 x PC audio
Touch Panel: Resistive 5 wires.
Power Consumption: <20W
Dimensions: 10.4W x 7.3H x 1.4D
Weight: 3.3Lbs
Operation Temperature:-4°F to 158°F
See this product on the mp3Car Store
HERE
.