ScanXL also has plug-ins to enable enhanced diagnostics on GM and Ford vehicles.
When using the dashboard function the gauges move pretty smoothly, which greatly improves the appearance of the dash (jumpy gauges are very annoying).
The Dyno performance data can only be used with vehicles with manual transmission. To use the dyno function you will have to enter the weight of the vehicle and the wheel sizes.
Most parts of the software can be customized or configured enabling you for example to change the colour to match your dash, or scaling items into proportion for your screen.
I have successfully installed ScanXL Pro onto a system running Windows 7.
ScanXL Pro would be good for integrating into a carputer system; however it may be a little fiddly pressing some of the tabs along the top of the screen using a 7" or 8" touch screen due to the size of the tabs.
ScanMaster:
Price: $69.95
Installation is fairly straightforward; it only takes a few minutes to set up the package then register your license information.
Features:
• Automatic, hands-off protocol detection
• Real-time data, available in the form of tables, graphs, and gauges
• Reads all generic and manufacturer-specific DTC's
• Database of over 4200 generic DTCs, and over 3600 manufacturer-specific DTCs
• Can be used to turn off the "Check Engine" light (MIL), and clear all emissions-related diagnostic information
• Oxygen sensor test results
• Continuous and non-continuous monitor test results
• VIN, Calibration ID, In-Use Performance Tracking
• Multi-language support: Croatian, Czech, Danish, English, Greek, Hungarian, Polish, Serbian, and Spanish.
• Metric and English units of measure
• Printable diagnostic reports
• Data logging in CSV format
• Dynamometer
• Fuel gauge
ScanMaster is a fairly basic package and does not include many graphics and not very driver friendly. Not suitable for use on a small touch screen due to the tiny buttons/tabs along the top of the screen. ScanMaster would be more suited for use on a laptop for diagnostic purposes only.
The package offers a limited customizable skin where you can choose one of 36 colour schemes.
TouchScan:
Price: $24.95
Installation:
Description: TouchScan has a fairly limited set of functions, such as:
• Basic reading/erasing of trouble codes
• Logging vehicle speed and fuel rate (gal/hr)
• Digital dashboard
This software package could be useful for a dedicated digital Dashboard.
The buttons/tabs on the screen are well sized for easy use on a 7" touch screen.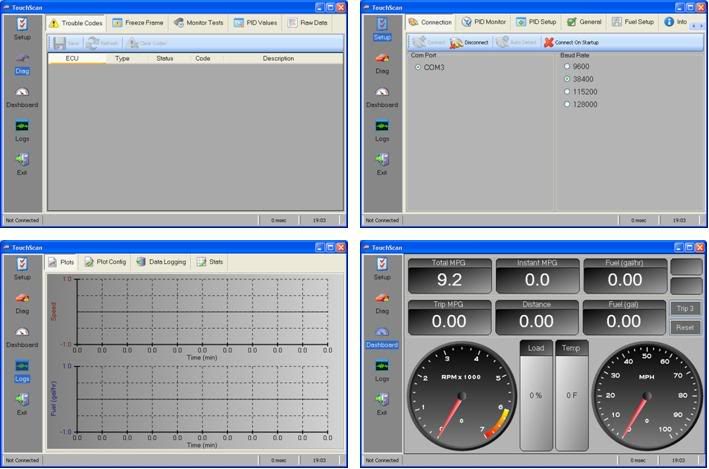 Vehicle compatibility:
I tested the OBDLink on several cars of different manufacturer, produced between 1997 and 2008:

* 2008 Honda Accord 2.2 (diesel) * 2007 Peugeot 4007 2.2 (diesel)
* 2005 Subaru Impreza 2.0 (petrol) * 2001 Renault Clio 1.2 (petrol)
* 2001 Vauxhall Corsa 1.2 (petrol) * 2000 Toyota Yaris 1.0 (petrol)
* 1997 Volkswagen Golf 2.0 (petrol)

All the cars I tested the OBDLink on with exception of the VW Golf worked fine with the interface. The problem I found with the VW Golf was that it was not fully OBDII compliant.


Integration:
The right angled OBD connector and Bluetooth option would be useful for integrating OBDLink into a Carputer setup.
In vehicles where the diagnostic connector is located under the dash you will find that when using the straight connector it sticks out close to your knee and the cable hangs down into the footwell. The right angled OBD connector will help keep the cable out of the way under the dash away from your legs etc also making it easier to hide away the cable/connector.

By using the Bluetooth option the installation speed and ease is improved. You can save yourself time and effort by not having to rip off some of your trim to feed cables to your computer setup.

The Bluetooth option would be good for use on a laptop to perform diagnostic tests. What I found when going to take the vehicle for a test run is, where the diagnostic socket sticks out under the dash, the cable hangs over the drivers' legs and across the gear stick/handbrake to the passenger seat where the laptop is. The interface would still be in the foot well area but it can be tied up out of the way. It will also give you more mobility, e.g. you can have the laptop in the engine compartment when you are testing sensors etc.


Positives:
• 90 day unconditional money back guarantee
• 3 year repair/replacement warranty
• Compatible with a vast amount of software packages
• Great customer support via ScanTool.net forum
• Great quality product
• Easy to install and use
• Works on Windows 7 (additional drivers required, see above)


Negatives:
• Larger than ElmScan 5 serial

The Verdict:
In my opinion OBDLink is a great device, in fact probably the best I have come across without having to spend lots of money. OBDLnk is compatible with a wide range of vehicles, can be integrated with a vast number of software packages, and can even be used on the new Windows 7 operating system. The device is very easy to set up and use. Great value product, excellent warranty and excellent product support.



Thanks:
I would like to send out a big thanks to MP3Car.com for the opportunity to review this product, Vitaliy from ScanTool.net for all the support provided during testing and to Palmer Performance Engineering (scanXL), WGSoft (ScanMaster) and OCTech (TouchScan) for donating some additional software to assist the review.


If anyone has any queries regarding anything I have written or need assistance with something let me know and I'll help if I can.

I will be carrying out more testing/ reviewing of OBDLink, ScanXL, ScanMaster and Touchscan and will post my progress on the forum. If anyone has any questions that they would like answers to, let me know and I'll do some testing to try and find out the answer.